This is the first major release since QuizWhizzer came out of Beta mode. We've added a couple of cool features based on feedback from users.
Here's a summary of the new features:
Retry incorrectly answered questions
Game timer
Game settings saved in browser
As well as this we've made various bug fixes.
Retry Incorrectly Answered Questions
Sometimes, in order to understand something, we just need another attempt at it. This game option means when a player answers incorrectly, they will need to keep trying until they get the answer correct. Beware though, the backwards movement will take effect for each incorrect submission!
If you want to know how many attempts a player took at a question, just go to the game results. Here you will see a face icon in the bottom right of the question cell if a player took more than 1 attempt at the question. A meh face 😐 means the player took 2 attempts. A sad face 🙁 means the player took more than 2 attempts. You can see the exact number of attempts by hovering over the icon.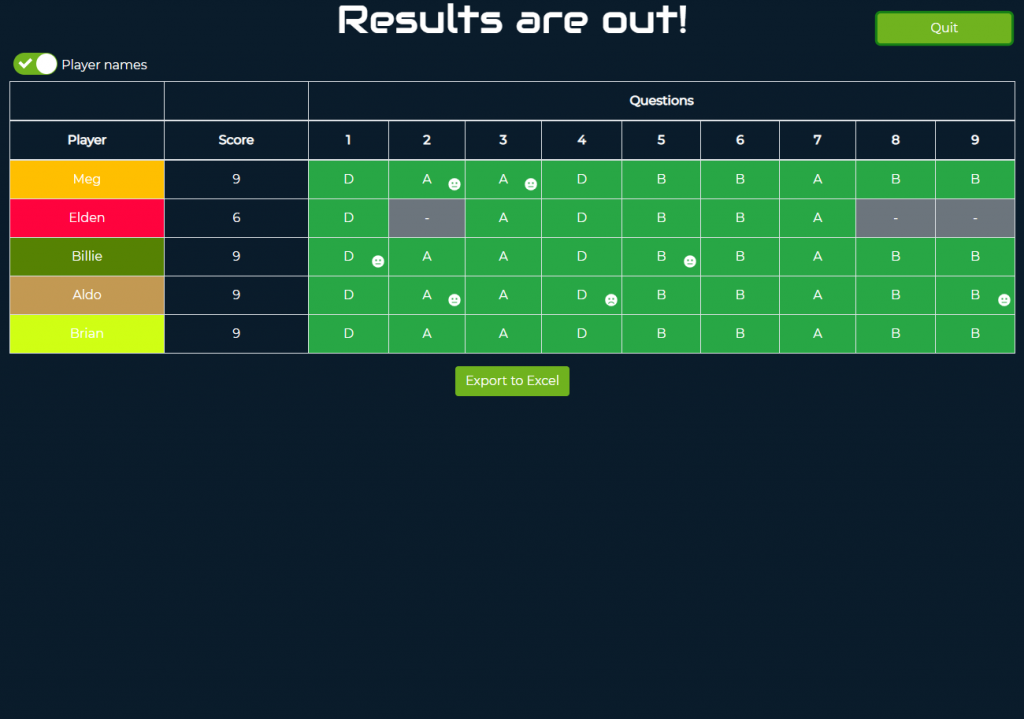 To use this mode, simply toggle the switch for "Try again when answer incorrect" on the launch screen (also new this release!)
Game Timer
This is a new QuizWhizzer Pro feature which allows you to add a timer to your game. It will automatically stop all players from answering when time runs out.
Save Game Settings in Browser
When we're talking about game settings, we're referring to the control panel at the right side of the screen in an active game. This shows settings you can change like how big the players are, their font size (for the names), whether to show player names, show the spaces, turn music on/off, etc.
We realized it may get pretty tedious to turn these on/off for each game you launch, so we've added a feature which will save the settings in your browser.
---
We hope you like this update! Is there a feature you want to see in a future update? Let us know by contacting support@quizwhizzer.com
Thanks!